Commercial Epoxy Flooring
Are you interested in getting epoxy flooring for commercial use? COAT Systems specializes in commercial epoxy flooring in the Greater Toronto Area. If you're a little outside the GTA, feel free to give us a call. We are more than happy to help you out. Did you know that epoxy flooring is durable and strong? This makes it perfect for commercial purposes. 
Why commercial epoxy floor coating?
We can apply epoxy floor coating over existing floors like concrete in your commercial property. Epoxy floors are built to last, so it's good to use in buildings that will receive a lot of foot traffic. Another advantage is the different colours and finishes you can choose. As such, epoxy floors enhance the aesthetic look of your commercial space.
OUR PROCESS
At COAT Systems all our crew members are highly trained in all stages of the application process. First, we ensure the floor is properly prepared, with the floor ground to the correct grading and any pits/cracks filled. Next, our installers meticulously and methodically apply each coat layer by layer until the proper thickness and look is achieved. The whole process can be completed in less than a day.
Our work is our pride and all our floors are guaranteed to be tough, long-lasting and easy-to-maintain. Regardless of the project our experienced crew are ready to deliver you the floor you deserve!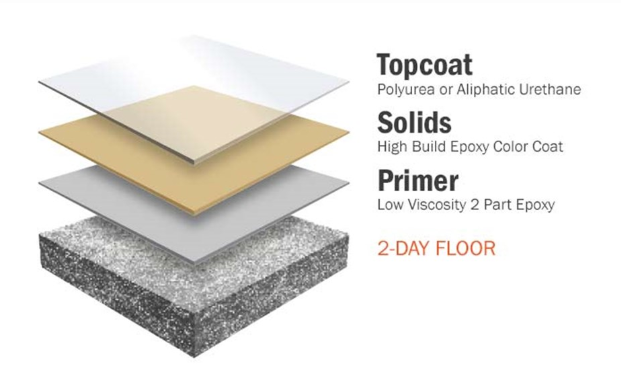 What are the benefits of commercial epoxy flooring?
The floors won't fade or turn yellow thanks to the UV protective coating. You don't have to worry even if your floor is exposed to a lot of sunlight. 

The surface is scratch-resistant. Other floors are prone to scratches as well as wear and tear. 

Epoxy floors are much stronger than concrete floors. For additional strength, you can apply an epoxy coating over concrete floors.

The colours and finishes are aesthetically pleasing. This is especially great if you have many customers visiting your commercial space. 

It is resistant to many chemicals. If you spill any liquids on epoxy, the surface won't be damaged. 

Epoxy is waterproof. It's not slippery and safe to walk on. 
What is the epoxy floor installation process?
First and foremost, we can help you clear out the space. Our team will ensure the floor is prepared. If needed, we can fill any pits or cracks. That way, the layers will be applied smoothly. We apply each layer until the desired thickness is achieved. We can complete the process quickly and efficiently, so you can use the space as soon as possible.
Why choose COAT Systems for commercial epoxy flooring?
We test all of our products before using or selling them to our clients. Our team will only use the best of the best. Rest assured your epoxy flooring will last a long time. 

We have many years of experience doing epoxy flooring for clients in Ontario. 

We work efficiently to complete our projects on time. 

We don't subcontract work out. Rather we train our team members in house. Our technicians are trained to use the necessary products and equipment.

We provide a warranty that is good for 7 years. Our clients get a signed copy of our guarantee. 

We can answer any questions or address any concerns you have for us. Feel free to ask us about epoxy floors.
COAT Seal of Approval – 7-Year Warranty
Our Floors are tough. And to show you how confident we are, all COAT floors are covered for 7-years against flaking, peeling and blistering.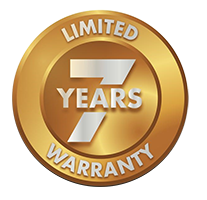 WHY SHOULD I INSTALL AN EPOXY FLOOR?
Epoxy floors are a great way to protect you against the wear and tear of regular traffic. They are easy-to-clean, chemical-resistant and highly durable. All our floors are distinctly unique, and your customers will appreciate the beautiful designs.
They Can Also help with:
⦁ Protection against weathering and erosion
⦁ Enhanced overall aesthetic
⦁ High Durability
⦁ Waterproof
WHAT DO WE BRING TO THE TABLE?
We have the experience and knowledge to make your job a success. We have the perfect combination of knowledge, experience coupled with high quality products to make every job a success!
Have a question or want to book an appointment? Get in touch today!
How Can We Help?
We can assist you with your all aspects of your job. From Design, Installation and Maintenance we provide everything you need under one roof.
See Why Our Clients Are SMILING 🙂


"A friend of mine recommended I try COAT Systems. I wanted epoxy floors for my business office. It looks great, so much better than concrete. I would recommend them."
-Mara 

"The epoxy flooring is beautiful. It turned out better than I expected. I couldn't be happier. Thanks, COAT Systems for your help. I have nothing but good things to say about their team. The technicians were friendly and professional."
-Nico F.

"The floors really made a huge difference to the look and feel of the space. It was a pleasure working with COAT Systems. They completed the project quickly."
-Lee B.