Porch and Patio Epoxy Flooring
Did you know that you can get epoxy flooring for your porch or patio? COAT Systems can help you apply an epoxy coating over concrete and other surfaces. We operate in the GTA, specializing in epoxy flooring for different uses such as residential, commercial, as well as industrial. Our team can assist you with all your epoxy flooring needs inside and outside your home. Epoxy is long-lasting and strong, so it is perfect for porches or patios.
Why epoxy flooring for a porch or patio?
Outdoor spaces need strong floors to endure harsh weather conditions and general wear and tear over time. Epoxy is durable and easy to maintain. Best of all, there are many colors and finishes available, so it is a fitting choice for personalization.
What are the advantages of epoxy flooring for porches and patios?
Epoxy is scratch resistant. 

The UV protective coating makes the surface ideal for outside areas. 

Epoxy is stronger than concrete and other floors. 

You can customize how the flooring looks because it comes in various colors and finishes 

It is also resistant to chemicals. 

Epoxy is waterproof and not slippery to walk on. 

The surface is easy to clean and maintain.
What is the epoxy installation process like?
First, it is important to prepare the surface. If there are any cracks, we can fill them to ensure the layers are applied smoothly. We apply each layer one by one. After, our team will clean up. Once the epoxy is dried, you can use your porch or patio. We are often able to complete the project in one day or less.
Why choose COAT Systems for epoxy flooring?
We use the best products on the market. We also test them beforehand to ensure they meet our standards. 

We are knowledgeable and experienced in epoxy floors. Our company specializes in flooring for residential, commercial, and industrial uses. 

We ensure clients are happy and satisfied. We can address any questions or concerns you have. 

We train our technicians in house and never subcontract work to outside contractors. They are trained to handle the specialized products and equipment. 

We offer a warranty for 7 years. All of our clients receive a certificate of this guarantee.
COAT Seal of Approval – 7-Year Warranty
Our Floors are tough. And to show you how confident we are, all COAT floors are covered for 7-years against flaking, peeling and blistering.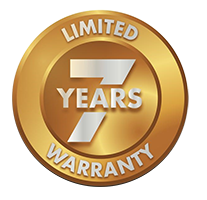 BENEFITS OF AN EPOXY FLOOR
⦁ UV Protective coating mean our floors don't yellow or fade
⦁ Scratch-Resistance and Highly Durability
⦁ 6 time stronger than a concrete floor
⦁ Aesthetically Pleasing
⦁ Chemical Resistance against gas, coolant, oils and household chemicals
⦁ Waterproof and food-safe
⦁ Very safe to walk on; Non-slip
IS THE FLOOR SAFE TO WALK ON?
All our flooring systems are rigorously tested to ensure they meet the required safety rules and regulations. COAT floors are non-slip and highly resistant to weathering making them a great choice for an concrete coating.
WHAT DO WE BRING TO THE TABLE?
We have the experience and knowledge to make your job a success. We have the perfect combination of knowledge, experience coupled with high quality products to make every job a success!
Have a question or want to book an appointment? Get in touch today!
How Can We Help?
We can assist you with your all aspects of your job. From Design, Installation and Maintenance we provide everything you need under one roof.
See Why Our Clients Are SMILING 🙂


"I got epoxy for my patio, and now I want to get it inside my home too. It looks beautiful. I highly recommend checking out COAT Systems. They are the best. 
-Jia P.

"I've been using my porch now more than ever before because I like the look and feel of the epoxy. It's easy to clean, which makes my life easier."
-Jacey M.

"So happy with getting epoxy floors done outside. I would not hesitate to use COAT Systems again. They did a fabulous job."
-Han S.